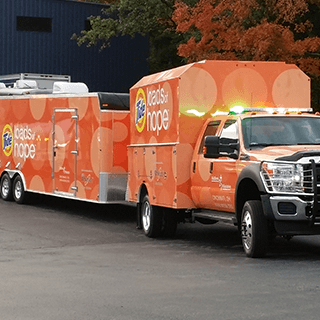 Proctor & Gamble Makes a Difference in Sonoma
Tide brings hope (and not just soap) into the world through sustainable practice, innovation and disaster relief with Tide Loads of Hope. Tide believes in the power of clean, and for friends going through times of crisis, clean clothes can make a difference. Ever since Hurricane Katrina, Tide's Loads of Hope program has been providing clean clothing in its community program for families, even in the midst of chaos.
Since that time, Tide has helped renew hope for nearly 45,000 families across the country affected by natural disasters, from tornadoes in Missouri to flooding in South Carolina.
So, on this 10 year anniversary of the Tide Loads of Hope program, they introduced a new laundry truck that can be quickly deployed. It can travel to multiple communities impacted by a disaster, enabling them to better reach those in need. The new truck — powered by Matthew: 25 Ministries, a top-ranked, international humanitarian aid and disaster relief organization — features 12 new high-efficiency Whirlpool Duet washers and dryers. The truck is able to do up to 100 loads of laundry per day, enabling Tide to help hundreds of families during each disaster relief visit.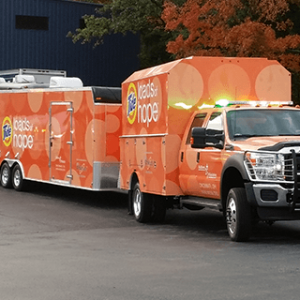 Official statement: "P&G cares deeply about the communities where they live and work and are committed to responding through their brands and people wherever possible. In response to the recent fires, the Matthew 25: Ministries' Disaster Response Team, including the Tide Loads of Hope Mobile Unit, provided free full-service laundry, to the Sonoma area. The team also distributed personal care kits with product such as Crest, Gillette, Pantene, and Secret to residents, free of charge."
The Tide truck is often seen in disaster areas, and our neighbors in Sonoma were no exception. The Power Inn Alliance and Members want to express a special thank you to Proctor & Gamble for bringing smiles to those who needed it most.
To learn more about Tide's Loads of Hope, click here.
For the most up-to-date information about Matthew 25: Ministries' humanitarian aid and disaster relief efforts please contact Joodi Archer at (513) 793-6256 or visit the website here.