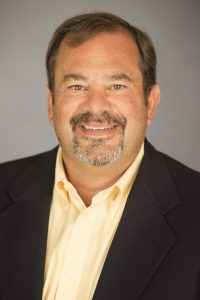 As we begin 2019, Tracey and I would like to take this opportunity to share highlights of the Alliance's 2018 accomplishments. It has been a jam-packed year, and I am truly proud of all the organization has done.
We held year two of our micro-manufacturing contest, Making Your Mark. The second year of this contest proved to be even more successful, with more applicants with more diversity in their product offerings. This program allows the area to attract and assist a new micro-manufacturer to locate in the district each year. Liquid Flower, a producer of cannabis-infused balms and other products, rose to the top to become the 2018 winner. Look for the newsletter's "News in Review" section to learn more about the contest and our winner. We expect to see big things happen for Michael and his company and we look forward to assisting them with taking their business to the next level. Thank you to all our sponsors for making this program a reality.
We at the Alliance continued our work on the City of Sacramento's cannabis-related ordinances. The cannabis ad hoc committee remained committed to meet with every applicant to learn about their business and then provide suggestions for how to acclimate into the area. The Alliance researched industry best practices and became leaders in how to integrate this new industry into an established urban industrial corridor. We have worked tirelessly with various city departments, Councilmember Eric Guerra, and the other City Council members to ensure the district's established employers were not driven out due to escalating real estate prices and/or lease rates. It has been quite a balancing act and the Executive Committee, the Board of Directors, the ad hoc and staff have worked countless hours on behalf of the area to assist with a smooth transition.
Once again, the Alliance supported Wide Open Walls (WOW), the internationally acclaimed mural festival held in Sacramento during the month of August. WOW will be one of the pillars of the Alliance's district art plan. More on our district art plan below.
Another important tenet in the district art plan is our partnership with Sacramento State's Art Department to create the "Art in Public Places" curriculum where students learned the theoretical and implementation elements necessary to create a commissioned piece of artwork to be displayed in a public place. The students learned about the Alliance's rich history and explored how to bring the industrial nature of the district to life. Students developed three models and presented them to the Board of Directors, who then selected the winner. #Poppy is now on display at the Ramona Avenue roundabout. This partnership on public art will continue into 2019 so please keep your eyes open for updates this fall.
Speaking of Ramona Avenue, the Alliance is pleased to announce the extension to Folsom Boulevard is nearing completion. While it has been a 20-year dream for the area, the Alliance is proud to have been a driving force in this becoming a reality.
The "Year of CPTED" continued to be a cornerstone of the Alliance's crime and code efforts. CPTED stands for Crime Prevention Through Environmental Design and is an internationally supported approach to combating crime by addressing building, lighting and landscaping conditions. The Alliance conducted over 80 CPTED audits in 2018 and will continue to utilize it going forward. It has greatly assisted with cleaning up the neighborhood while making it safer for everyone.
In addition, we also carried out the duties you all have come to expect from the Alliance: The diligence of the clean-up crew, code enforcement assistance, removal of illegal dumping, marketing, economic development and advocacy efforts.
The Alliance celebrates its 25th year in 2019. Below are a few items you can expect to see:
Partnership with the City of Sacramento on its "Inclusive Economy" program – this is a cornerstone of the passage of Measure U and the Alliance is part of the working group to develop those plans.

Utilization of the new Federally designated "Opportunity Zone" program – almost the entire district is part of this overlay and will serve as a way for people to invest in the district while deferring/eliminating capital gains taxes.

Continued approach to ensuring the district remains as clean and safe as it can be.

Pursuit of additional transportation-related funding to assist with goods movement and connectivity.
One final note – Greg Hribar with SMUD will begin his term as Board Chair on January 1, 2019. I am very pleased to have him move into this role. On behalf of the Board of Directors, we thank Greg for his commitment and support. The Alliance will be in great hands under your leadership.
Thanks for your support and involvement – we are proud of the cumulative efforts of 25 impactful years!
Best,
Scott Lee                                                          Tracey Schaal
2017/18 Board Chair                                     Executive Director