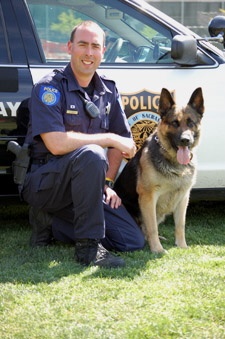 Congratulations to the Alliance's 2017 Top Cop, Sgt. Dustin Smith
For 10 years, Power Inn Alliance has been recognizing officers who have made significant impacts on the Power Inn district and its members. Last year, one sergeant took the Power Inn Alliance/Police partnership to a new level.
The Power Inn Alliance 2017 Top Cop award goes to Sgt. Dustin Smith.
Sgt. Smith strengthened communication between the Alliance and night patrol. Whatever information we passed to Sgt. Smith – he and his team got on it. Here are some of the accomplishments Sgt. Smith and his team were responsible for:
Partnering with CHP to intercept side shows and citing those involved
Working with the City Attorney to penalize street racers
An unrelenting pursuit and arrest of wanted persons harassing the district
Watching over the roving illegal cannabis parties and other gang-related events
And keeping the Alliance updated on night time activities
Congratulations Dustin Smith on being Top Cop 2017!