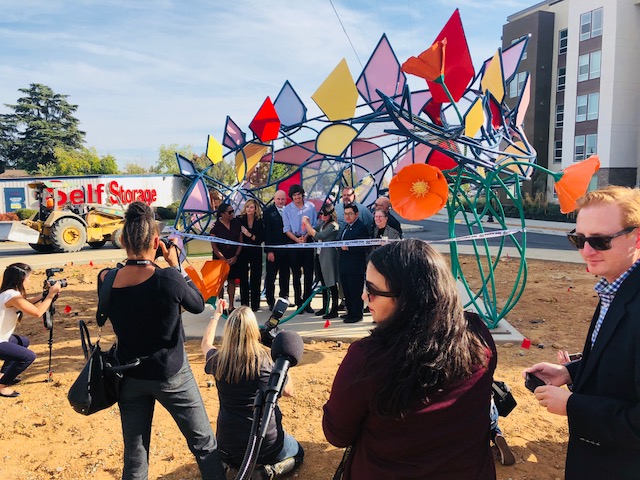 #Poppy
by Christopher Duffy and Tiffany Boddeker
On Friday, November 2nd, President of Sacramento State, Dr. Robert Nelsen, along with Councilmember Eric Guerra and our own Tracey Schaal, unveiled the district's newest art installation and congratulated Professor Connelly and artists Christopher Duffy and Tiffany Boddeker on their creation.
#Poppy is the product of a Sacramento State University course in public art – study, proposal and production – and a public/private collaboration that was supported by the Power Inn Alliance Board of Directors to introduce art to the district and engage Sacramento State faculty and students.
Collaborators include:
Commission – Power Inn Alliance Board of Directors, executive director Tracey Schaal, Dr. Ming-Tung "Mike" Lee, Professor Emeritus
Educational Support – Dean of Arts and Letters Sheree Myers, Chair Carolyn Gibbs and Professor Andrew Connelly, Sacramento State, School of Arts and Letters, Art Department
Student artists/course participants – Tiffany Boddeker, Christopher Duffy, Tammy Helenske, Nicholas Kukuruza, Camilo Andres Pico, Kat Rios
Special thanks to:
Kimberly D. Scott-Hallet, Engineering Design International, Inc.
Kevin Ptak and Benjamin Hunt, Institutional Technicians, Sacramento State, Art Department
McGuire Hester, One Contractor Many Trades