May is Bike Month made a new fan
Alliance Board member Christine Roybal found a new love of bicycling and rode 227 miles –  beating her original pledge of 100 miles by 127 miles!   Christine was a cheerleader in Councilmember Eric Guerra's office dishing out t-shirts, buttons and inspiration to other staff and by dedicating herself to ride 20-30 miles a day regularly.
"I am excited for the many opportunities I've been afforded thanks to all the extra activities that have been happening this month in honor of bicycling.  Simple as it may sound, my favorite event has been the Thursday afternoon rides with team City of Sacramento VeloCity," Roybal said.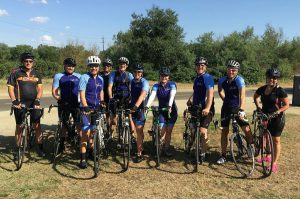 The May is Bike Month program had a goal 2 million bicycling miles rode and logged in the Sacramento region. As of June 3, the tally was 1,829,279.
If you didn't receive your shirt, please contact Dawn@powerinn.org or 916.453.8888