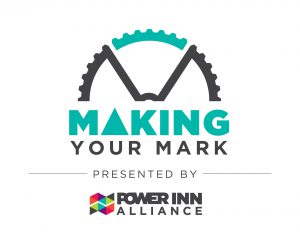 Making Your Mark Micro-Manufacturing Contest Returns for 2nd Year
Applications Open 4/2/18
Presented by the Power Inn Alliance, the Making Your Mark micro-manufacturing business competition encourages entrepreneurs to compete for the chance to establish a business in the Power Inn District and be awarded a business start-up package with essential resources and tools to turn a dream into reality.
Starting a business can be stressful, puzzling, and confusing without the proper tools and resources. The winner of this micro-manufacturing contest won't have to worry about the essentials of starting and running their business. In addition to the resources that will be provided, the connections that will be made with members of the Power Inn Alliance, the guidance from the judges and mentors, and the support from the business community are unrivaled.
This competition can be the difference between having a dream to making it a reality! The competition provides the winner the essential resources and tools needed to successfully open a business in the Power Inn district, including a prize package worth over $50,000 including assistance with legal services, accounting, marketing, business coaching, advertising, telecommunications, banking, graphic design, financial consulting, and real estate assistance.
The goal of the Making Your Mark contest is to mentor and assist the winner so they can grow and prosper, and make their home within the district. All individuals &/or businesses are encouraged to apply if they are looking to grow, expand, or establish a site. The contest is looking to attract micro-manufacturers to the Power Inn district.
Apply Today
Recent news:
Power Inn Alliance contest to reward micro-manufacturer
Local contest for aspiring micro-manufacturers looks for its next winner
2017 Winner Info
The official winner was announced in October in accordance with National Manufacturing Day on October 6, 2017. The winner received a start-up prize package worth more than $50,000 in goods and services. The Power Inn District is already home to more than 62% of the City of Sacramento's manufacturing jobs and 14% of the greater six-county region's manufacturing jobs.
Sacramento Business Journal article on finalists – 6/30/17
Lifeline Lift Co., Inc. by James Heberling
Lifeline Lift Co., Inc., owned and managed by James Heberling, exists to manufacture and distribute the Refuse Container Transport Lift Assist (RCTLA), or "Dump Caddy." This tool takes the load of heaving a trash can into a dumpster off your shoulders with a patented mechanism. The RCTLA reduces the potential for work-related back injuries and improves the quality of life in the workplace for janitorial and cleaning personnel. The RCTLA was invented by Heberling in 2000 during his time as a welder for the Sacramento City Unified School District (SCUSD) and was patented by them (US Patent #7018155), who then granted Heberling exclusive license to manufacture and distribute the product. Heberling established Lifeline Lift Co. in January 2016 in Sacramento to fulfill this purpose.
This product appeals to any company that employs regular, full-time janitorial or cleaning staff, and are interested in investing in the reduction of their workers comp related costs. While there are a small number of similar products in the market, none can match the RCTLA in terms of ease-of-use and cost effectiveness. It is unmatched in that it is single operator, non-electric and situated in the market as both affordable and high quality. Lifeline Lift Co. will begin by marketing to local public-sector organizations such as school districts, construction companies and public utilities companies. Starting small and local affords Heberling the opportunity to begin manufacturing at a reasonable rate while expanding his staff, his network and broadening the RCTLA's potential future market sectors.