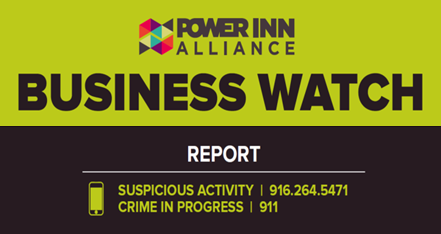 The Issue
In late September Alliance members stepped into action using effective Business Watch skills to help Sacramento Police catch thieves.
In a specific area of the district, repeated petty thefts were occurring by a variety of people without a pattern, making it challenging for Police patrol to know who to look out for and at which times.
Resolution
The Alliance members who were affected by the activities are frequent attendees of Business Watch and Crime & Dines and knew what to do. Using learned skills and their instincts they became vigilant observers of specific details noting descriptions of involved persons, vehicles, locations and times. They shared this information with each other, Alliance staff, and the Sacramento Police Dept.
These details are what patrol needed and they took a swift response.  In the last few weeks, Police have made 6 arrests, notified chronic offenders that their illegal activities are on watch, and coordinated with an outside agency aircraft for additional patrol.
"We appreciate being notified by the Power Inn Alliance of this illegal activity, so we were able to focus our resources on both prevention and enforcement activities," Lt. James Harrington said.
How to Get Involved
Creating a safe environment is a primary goal of the Alliance district, and an active Business Watch community is the key.  Join us for the next Business Watch training with  the experts October 19th noon – 1pm at the Alliance office.
RSVP is required. Pizza provided.
Register Here